Yearly Subscription to Play Better Bridge Videos & Lesson Bundles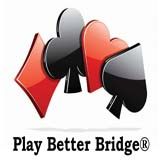 Yearly Subscription to Play Better Bridge Videos & Lesson Bundles
Play Better Bridge is now offering a yearly subscription to Lesson Videos and Bundles. With your PBB Subscription, you will enjoy watching the lesson videos and reading the lesson bundles online.  You may watch and/or read the materials as many times as you like. 
Upon receipt of your order, your PBB account set up. Once you activate your account, you may begin watching the videos and reading lesson bundles online. The lesson topics are organized by category and level of intensity to make navigation quick and simple. No more trying to find old videos to re-watch or buying a new computer and losing your downloads. Your videos and lesson bundles will be kept in the cloud and accessible to you on demand.
Add the yearly subscription to your cart and get started!
Reviews